THE Heavy Metal Reference on the Internet!
Bands: 1730 CDS: 6387 Songs: 72833

(Banner ads are FREE for bands and labels. Email me if interested.)






Your ongoing support of Brutal Metal is appreciated!
#s A B C D E F G H I J K L M N O P Q R S T U V W X Y Z
Compilations Soundtracks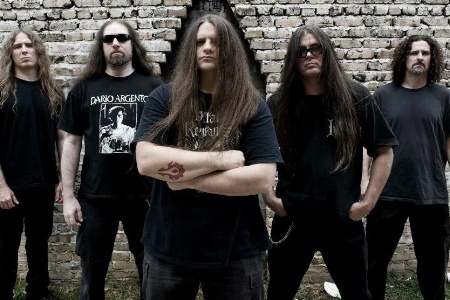 The Bleeding
(click on Artist's name above to return to artist's main page)
Category: Death Metal

Year: 1994

Label: Metal Blade

Catalog Number: 3984-14137-2



Average Rating: 95 / 100 (1 rating)



Personnel
Paul Mazurkiewicz drums
Rob Barrett guitar
Jack Owen guitar
Chris Barnes vocals
Alex Webster bass

Tracks

1.
Staring Through the Eyes of the Dead
3:30
2.
Fucked With a Knife
2:15
3.
Stripped, Raped and Strangled
3:27
4.
Pulverized
3:35
5.
Return to Flesh
4:21
6.
The Pick-Axe Murders
3:03
7.
She Was Asking For It
4:34
8.
The Bleeding
4:21
9.
Force Fed Broken Glass
5:03
10.
An Experiment in Homicide
2:37

---

Total Running Time:
36:46
If you see any errors or omissions in the CD information shown above, either in the musician credits or song listings (cover song credits, live tracks, etc.), please post them in the corrections section of the Brutal Metal forum/message board.
The music discographies on this site are works in progress. If you notice that a particular Cannibal Corpse CD release or compilation is missing from the list above, please submit that CD using the CD submission page. The ultimate goal is to make the discographies here at Brutal Metal as complete as possible. Even if it is an obscure greatest-hits or live compilation CD, we want to add it to the site. Please only submit official CD releases; no bootlegs or cassette-only or LP-only releases.
EPs and CD-singles from Cannibal Corpse are also welcome to be added, as long as they are at least 4 songs in length.
---
Existing comments about this CD
From: Shoey
Date: July 26, 2001 at 11:33
This is the first CC album I heard, and after awhile it truly grew on me. The music is a heavy wall of grinding guitar and bass, hammer pounding drums and Chris Barnes growling vocals serves up a great death metal album. Fucked With A Knife is a CC classic. Pulverized and Stripped, Raped And Strangled are powerful heavy songs. The Pick-Axe Murders is another favourite. And my pick for the best lyric of the album: Fucked With A Knife 'Stick it in, Rip the skin, Carve and twist, Torn flesh, From b
From:
Date: October 29, 2001 at 7:06
the bleeding is an album as far as a musician speaking...the album is flawless...the heeavy brutal riffs and entwined together with flawless precision. Chris Barnes' vocals have become the standing for the genre.
From: drakkar
Date: March 13, 2002 at 14:13
definitely corpse's break-through album... they went from heavy straightforward death metal to amazing technical compositions. the riffs are a guitarists dream come true.
From: ?????????
Date: August 21, 2002 at 0:18
Absolutely boring garbage! Every Cannibal Corpse album sounds the same. I can't believe how fucking stupid you mindless dickheads are by actually buying all their albums. If you heard one fucking track (notice I didn't even say song because this shit isn't music)then you heard it all from these no talent, wannabe tough guys, noise making shit heads. This isn't 'brutal death metal', this is fucking garbage. But of course even calling this garbage is just an insult to real garbage......
From: LordWorm
Date: August 24, 2002 at 7:00
Hey ???????????, I see you are obviously too scared to leave your name, you fucking pussy. You are obviously a fan of Shitknot, who had as much talent as you. Cannibal Corpse has more talent in one finger than slipknot has in the whole band. IF you think cannibal corpse has no talent, then why dont you tell Corpsegrinder that, he'd kick the mother fuckin shit out of you sad cock sucker ass. Fuck Off you stupid 'mindless dickhead' who dosnt understand brutal death at all and thinks slipknot is or
From: ????????
Date: August 26, 2002 at 0:21
What you need my name for faggot? You want to stalk me or something? Oh, and when did I ever say I liked Slipknot anyway you fucking cunt? Making up shit cause you can't do any better. Ok, Sissygrinder gonna kick my ass just because I speak the truth? A guy who writes about killing people and has to surround himself with a stupid tough guy image is going to kick my ass? This guy has never hurt a soul in his life! Hahahaha!!!!! Lordworm, your just as big as a joke as Cannibal Corpse is.
From: 0Tolerence
Date: September 16, 2002 at 15:22
Good album, but imo not as good as the previous one. Bit softer on the vocals with high pitching screams. Still excellent riffing. 8/10
From: mutha trucka
Date: January 18, 2003 at 5:21
let me in on this debate - i have heard about 5.9 seconds of some cannibal corpse song and heard all i need to hear. sounds like several fatsos takin shits and puking at the same time. want real metal? listen to manowar! i command you! their swords will pierce your mortal flesh, the ghosts of the vikings will ravage your misguided soul. cannibal corpse is belch metal.
From: ChrisRezendes
Date: February 19, 2003 at 16:20
From a musician's standpoint, this album is nearly flawless. The only thing lacking at this point is a vocalist with talent, a problem which would soon be solved by the hiring of George Fisher. Musically speaking, songs like Force Fed Broken Glass, An Experiment in Homicide, and The Bleeding really improve you as a musician playing along. I should know, seeing as I tabbed them out. If I could get my playing down as tight as it is on this album, I'd be a VERY happy man.
From:
Date: March 25, 2003 at 2:38
Alright, listen. Manowar blows chunks. If I had to listen to Manowar all the time, I'd blow my fucking brains out. If you don't like Cannibal Corpse, don't come over here and bitch: it's not our fault if you don't like it. If you think that the songs all sound alike, then you just haven't listened long enough. www.braindead.ht.st motherfuckers!!!!
From: mutha trucka
Date: March 29, 2003 at 0:41
listen you nameless goon - manowar destroys all who challenge them. dave matthews is heavier than this band cannibal cunts. my opinions are facts, for i am mutha trucka. i am everything.
From: grindwecrust
Date: April 19, 2003 at 4:56
LONG LIVE GORE!!!
From: Martyr
Date: April 20, 2003 at 5:36
This is probably the best album that Cannibal Corpse has released. The music is much tighter on this album than it was on prior releases and Barnes put more effort into the vocals on this album and it definately shows. The guitar work on this effort is arranged much better and gives the impression that the guys are acutally able to play their intruments (as opposed to play REALLY fast). This goes onto the must own list for people that enjoy early/mid nineties SO.FL. death metal.
From: PULSATAN
Date: June 6, 2003 at 6:24
Cannibal Corpse kicked ass with this one. Can't wait to see them LIVE!
From: Maniak
Date: June 9, 2003 at 14:39
???????? ye fukkin` cock sucking filthy cannibal corpse you !!! Go suck a dick or something !!! These guys rule !!!
From: JAGAL_PERSON
Date: June 14, 2003 at 6:17
STILL BLEEDING...............
From: Sgt. D
Date: August 24, 2003 at 17:17
fuck manowar and fuck corpsegrinder.
From: THIAGO -- BLEED
Date: August 29, 2003 at 12:40
PODRERA !1
From: GABO
Date: November 13, 2003 at 22:37
good album, but my favorite is Butchered at birth.
From: jimmy walden
Date: December 14, 2003 at 17:00
and here is the presence of my long awaited return.Such brilliant and superior minds dwell in brutal metal,what with fist fucking and blowing chunks.well isn't it about time another 200 people exspress korns 'poserism' or perhaps cannibal corpse trying to be famous with the FIVE albums they sold this year.um... fuck off.i listen2what i like no matter what people think and i don't really give a fuck what any1 listens to.lets have a 'this band's beter than that band' battle
From: Skullfuk
Date: December 17, 2003 at 2:49
Cannibal Corpse fucking rules! Fucked with a Knife and Stripped, Raped and Strangled fucking rule!!
Brutal Metal Volunteer
From: Blue Charvel
Date: December 17, 2003 at 12:05
Hard to argue with that kind of logic...so if I read this correctly, one is 'fucked with a knife' before the stripping, raping and strangling even get underway? Sounds impressive.
From: WhiteTrashBitch
Date: March 25, 2004 at 6:33
Cannibal Corpse kicks ass! This album fucking kills. Can you believe they are only selling this for $8.69? That is suicidal.
From: CCdrums rule
Date: April 10, 2004 at 1:39
guitars and drumming are unbelievable. Whats dissapointing is that half you fags only buy their shit because its as messed up as u are. y dont you quit trying to make yourself look so different from 'conformists' and go out of your way to promote CC just because their lyrics are different and vulgar. Its funny how they make money off dumbasses like those who will like their shit just because they're demented. be a fan bcuz of their music. not bcuz they're lyrics get money from u dumbasses
From: CCdrums rule
Date: April 10, 2004 at 1:44
any1 on here listen to gardenian? in my opinion, the heartless is a great song by them. I listen to other music besides CC, and not every band i like is in the death metal category. but from playing guitar and bein into metal, i dont think im bashing anybody. CC isnt for everyone, some hate them, others have a passion for them. its your choice to choose whether the hell or not you like them. and y get pissed on a chat forum?
From: Two incher
Date: May 4, 2004 at 18:27
Cannibal Corpse Rules!! For those who hate them.....suck my 2 inch dick!! Yeah, it's 2 inches, wanna make something of it??
From: DreadZombie
Date: May 19, 2004 at 12:03
Cannibal corpse is very great band, they pay attention to what they do!Don't just buy the bleeding but buy all their albums ,Ep's whatever they have out!! Make sure to check out the Wretched Spawn it comes with a kick ass DVD! Unlike alot of bands out there that sound good but it only takes them 5 minutes to make a song but not cannibal!It is to bad that jack left the band for Adrift.This is one of my favorite bands next to Morbid Angel!! If you don't know who Morbid Angel is Check them out!!!
From: FyouALL
Date: June 7, 2004 at 6:32
fuck all of you people who say that cannibal corpse sucks. it is the most fucking awesome band . not the vocals so much but the words are awesome. true shit and all you CC haters better watch out.metal is the only type of music that requires any real tallent. CC has the most powerful and disturbing lyrics and thats why thy are so fucking awesome.
From: FUCK CC
Date: June 29, 2004 at 21:52
i agree with all the guys in here that say CC sucks...they are the single worst band in history...they may be able to play theyre instrusments well...but its so fast that it sounds like shit...the singer sounds like cookie monster on crack that has watched too many horror movies...anyone who likes music that sings about raping your mom or fucking your dog has issues...if you want real metal go for stuff like sabbath or maiden or megadeth...cannibal corpse is the shit...the BULLshit....fuck them!
From: mike
Date: September 23, 2004 at 18:32
cannibal corpse sucks. they're music is really boring and not that technical. im not some retard shooting his mouth, im a musician, and i CAN play a good number of their tunes (i was big into these guys when i was younger). anyone who claims these guys are musical virtuosos does not play an instrument. shit like dying fetus is technical. shit like cephalic carnage is technical. cannibal corpse is just a bunch of seven string chugga chugga riffs with a sped up 4/4 tempo.
From: Avatar86
Date: October 18, 2004 at 16:19
Now now Little Children of Demise! Let everyone have their own oppinion about their feelings for different kind of metal! The World motion is bound by cause and Our Own will (beleve me we have one, I'll prove it one day for you) wich makes us do what we do and say what we say
From: Avatar86
Date: October 18, 2004 at 16:21
By the way! Cryptopcy Is far more Loathsomly Brutal then Cannibal Corpse!
From: Metal T
Date: April 15, 2005 at 19:24
"Stripped,Raped and Strangled" ??? "Force Fed Broken Glass" ??? Don't believe in censorship,but thats just f**king pathetic.I'll bet you some serious green that if any of these dudes sisters or mothers were as they say "Stripped Raped and Strangled" they wouldn't be writing this kind of sh*t.Then again they are pretty brutal and the name of the site is "Brutal Metal".--"She Was Asking For It" ?????? and i thought i was a sick motherf**ker.
From: shinji
Date: April 27, 2005 at 21:27
I think Cannibal corpse sucks too. I listen to a lot of music, and some of it is violent - but what turned me off this band is when I read the lyrics to "Necropedophile", where the lead singer molests a dead childs corpse. I dont care if they argue "freedom of expression", cuz thats like giving Jeffrey Dahmer a recording contract. Cannibal Corpse Sucks and should have their genitals ripped off. Fucking crap!
From: Dani FIlth
Date: May 8, 2005 at 1:11
I've already posted my opinions about this band on the site, on the page for Eaten Back To Life. It was simple curiosity that made me come here to see just what sorta comments people posted about one of CC's more popular albums. And it is here that i must agree with the Cannibal Corpse fans- if you don't like the music, THEN DON'T PAST SHIT ON THEM!!! Jesus Christ. Cannibal Corpse produce great riffs, and Corpsegrinder has a great Death Metal voice. I just don't have the stomach for the lyrics.
From: Scrap Iron
Date: May 10, 2005 at 19:44
I have to say I like all kind of rock music, especialy Metal, and I agree with with the ones saying if ya don't like, "FUCK OFF", and let the ones who do like it listen to what they want
From: shinji
Date: May 23, 2005 at 0:39
Anyone can listen to any kind of music that they want to, and I don't believe in censorship- it just pisses me off when some people think that killing babies, molesting dead children, and using violence against womens sexual organs, are cool. The first song I heard from this band was "Hammer smashed face" and I thought it was a good song- but when I read lyrics for all their other songs, I went from being disgusted to very angry. If you want to be a fan of this band, fine- but I have the freedom
From: shinji
Date: May 23, 2005 at 0:49
to express how I feel about the lyrical content of this band. I like bands like Slayer, Cradle of Filth, Morbid Angel and a whole lot of other stuff. But I will say that I will always be against Cannibal Corpse because I feel their lyrics have violated me personally.
From: DeathMetalFans
Date: August 3, 2005 at 16:33
Cannibal Corpse Defeated The Cramps.Marduk Defeated Napster.Bal Sagoth Defeated Beastie Boys.
---
You cannot leave comments for this CD because you are not currently logged in. Please click here to log in or create a Username for leaving comments.