THE Heavy Metal Reference on the Internet!
Bands: 1745 CDS: 6464 Songs: 73737

(Banner ads are FREE for bands and labels. Email me if interested.)






Your ongoing support of Brutal Metal is appreciated!
#s A B C D E F G H I J K L M N O P Q R S T U V W X Y Z
Compilations Soundtracks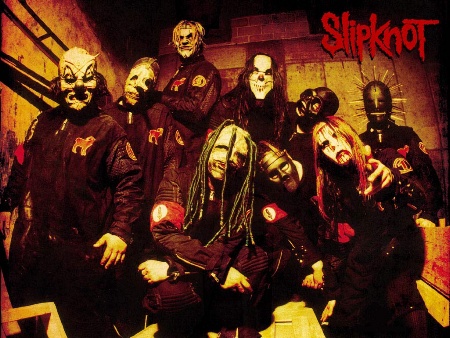 Slipknot
(click on Artist's name above to return to artist's main page)
Category: Alternametal, Rapcore

Year: 1999

Label: Roadrunner Records

Catalog Number: RRD 8655



Average Rating: 95 / 100 (3 ratings)



Personnel
Corey Taylor vocals, cover art and package concept, production
Mick Thomson guitar, cover art and package concept, production
Shawn "Clown" Crahan custom percussions, backing vocals, cover art and package concept, production
Craig "133" Jonessamples, media, cover art and package concept, production
Jim Root guitar on Purity and Me Inside, cover art and package concept, production
Josh Brainard guitar on all tracks except Purity and Me Inside, cover art and package concept, production
Greg Welts custom percussion on demo tracks
Brandon Darner custom percussion on demo tracks
Chris Fehn custom percussion, backing vocals, cover art and package concept, production
Paul Gray bass guitar, backing vocals, cover art and package concept, production
Joey Jordison drums, cover art and package concept, production, mixing
Sid Wilson – turntables, cover art and package concept, production

Tracks

1.
742617000027
0:36
2.
(SIC)
3:19
3.
Eyeless
3:56
4.
Wait And Bleed
2:27
5.
Surfacing
3:38
6.
Spit It Out
2:39
7.
Tattered & Torn
2:53
8.
Me Inside
2:39
9.
Liberate
3:06
10.
Prosthetics
4:58
11.
No Life
2:47
12.
Diluted
3:23
13.
Only One
2:26
14.
Scissors
19:18

---

Total Running Time:
58:05
If you see any errors or omissions in the CD information shown above, either in the musician credits or song listings (cover song credits, live tracks, etc.), please post them in the corrections section of the Brutal Metal forum/message board.
The music discographies on this site are works in progress. If you notice that a particular Slipknot CD release or compilation is missing from the list above, please submit that CD using the CD submission page. The ultimate goal is to make the discographies here at Brutal Metal as complete as possible. Even if it is an obscure greatest-hits or live compilation CD, we want to add it to the site. Please only submit official CD releases; no bootlegs or cassette-only or LP-only releases.
EPs and CD-singles from Slipknot are also welcome to be added, as long as they are at least 4 songs in length.
---
Existing comments about this CD
From: death's child
Date: March 8, 2002 at 19:00
fuckin' reaaly great album!!!
From: daknot8493
Date: March 13, 2002 at 17:48
if ya want an album to get ya fuckin pumped up this is the shit right here!
From: brad
Date: April 1, 2002 at 22:12
It nice to see how everyone likes to jump right on the bandwagon. Slipknot, just as trendy as you are.
From: MaGgOt
Date: May 4, 2002 at 22:27
fucking mad ass album! this shit goes off! keep it (sic)
From: Rickshaw
Date: May 10, 2002 at 20:56
It aint bad for nu metal!
From: PREY FOR ME
Date: May 16, 2002 at 16:29
Why would any record label sign a band this bad? Is image everything? There are so many bands at your local level that have 100x the talent. Its a shame people buy music with their eyes instead of their ears.
From: Hardcore Cock
Date: May 23, 2002 at 22:42
Ok about 6 years ago I got a demo tape at a Sepultera concert from these people, I thought it kicked ass, so did you; no that they are popular and you are 'pure hardcore' you don't and call them MTv pussies. DO you see anything about them that says put me on MTv. FUCK NO. They do what they want and I don't care if you think they suck or they rock, I like them for their music, not to be anti-trendy. If Slipknot is trendy, then fucking good, hardcore is coming back. Fuck you bitch posers.
From: PREY FOR ME
Date: June 1, 2002 at 18:55
It doesnt matter if SLIPKNOT are trendy or not they just suck. There isnt anything wrong with having a gimmick if they had talent backing it up.Take away the masks and Hardcore Cock is still listening to her back street boys cd. The current 7.5 rating is about 8 points too high.
From: anonymous
Date: June 26, 2002 at 12:12
before i heard Slipknot i liked rap, and now i cant stand it. I thank this band for turning me over.
From: slipknot kicks
Date: June 26, 2002 at 12:13
i cant believe people think Slipknot suck. whoever says they do should die and burn in hell eternally
From: Billy Bob
Date: June 26, 2002 at 20:22
'Catergory: Alternametal, 'Death Metal', Thrash Metal' Death Metal?? Bah!! Slipknot is nowhere close to being fuckin' Death Metal!! Yeah, that and they suck. Slipknot (the album) is decent, but the band just plain old sucks.
From: victor
Date: August 20, 2002 at 9:18
slipknot rules there music a combination off brutal metal and death and off course hardcore nobody can say that they sucks,maybe there are other bands more aggresive but the way that they lives his lives and and show his music-doesnt have a copy in anyplace-thats to all the crazy fuckers that think slipknot suck-you guys sucks-slipknot rules.keep going doing that well.
From: gloom
Date: September 4, 2002 at 5:26
pathetic disgracful noise id rather listen to music rather than hear it. slipknot is not listenable anybody can shout their head off. one word - POSERS just listen to classic metal for real music
From: geo
Date: September 18, 2002 at 15:59
i love them,i'd like help the because they give me power for making my own metal band
From: Ultima
Date: September 26, 2002 at 18:09
When I first heard Slipknot I instantly became a Fuckin Maggot. Slipknot is fuckin great! And all the other Maggots out thare should beat the shit out of these slipknot haters. These mother fuckers have no clue what real fuck music is! And Slipknot is MUSIC!
From: John
Date: October 14, 2002 at 7:21
Slipknot Kicks big fucking ass and to all the fucks out there that don't like them go fuck your gay friends in there big fucking ass holes
From: jimmy beman
Date: October 31, 2002 at 12:17
fucking alsome
From: 9 CHAMPIONS A 1
Date: December 1, 2002 at 7:57
Se'ores de Brutal Metal a ver si actualizamos mas a menudo la web...'DONDE ESTAN LOS GODS OF METAL JUDAS PRIEST? Sobre este disco decir que ni lo he escuchado ni tengo ganas de escucharlo,EL METAL ES MUCHO MAS SERIO QUE ESTO.
From: Who cares?
Date: December 11, 2002 at 3:26
I really pity both sides of the argument here - these are OPINIONS, each person is entitled to an OPINION and if you go around preaching your OPINION as FACT then you are a narrow-minded moron. If you like Slipknot, good, be happy.. listen to it. If you don't, go post HAPPY thoughts about a band you do actually like?
From: mike
Date: January 16, 2003 at 15:14
it rules
From:
Date: January 16, 2003 at 20:09
we're living at the end of times and having bands such as slipknot goes very well with how the world is in this present day.the world is infected what do you expect.slipknot-dirty,distasteful,reckless,mentally fucked up,in it for them selfs,do you blame them? i love it. keep poisoning the world slipknot!
From: deaf gnome
Date: February 17, 2003 at 23:19
I used to like Slipknot, and I think that it is more of a phase for most people until they actually listen to good music (not Slipknot.) It is the same with all the mall goths and those who 'try' to be punk...pitiful...but anyhow I don't care if any of you do or do not like this band but they are very untalented and if you really go into depths with other music you will see this.
From: tailgunner
Date: April 17, 2003 at 8:41
pero q peste de nu metal... esta mierda no es seria joder, sin escuchar el disco ya me da ganas de vomitar. mirad la puntuacion: un 6 y gracias, y luego sus nombres: corey, mick, sid, chris... PARECEN LOS BACK STREET BOYS, PERO CON MENOS TALENTO AUN.
From: pantera da shit
Date: April 24, 2003 at 13:45
some slipknot songs are a stroke of pure brilliance. wait and bleed and scissors are two truly great songs. mostly, THIS ALBUM WAS SHIT
From:
Date: October 14, 2003 at 5:42
What the hell??!!Slipknot is NOT metal. A simple rule of thumb to determine if a band can be classified as 'Metal'....And it doesn't involve picking up a guitar in your songs...the backshot boys used a guitar in many of their songs...are they metal? True metal does not revolve around Image driven, commercial appeal. Metal is a genre of music where it is entirely the MUSIC that makes it good...not the Radio, not the TV, not the image the morons singing it provide! That is true metal!
From: Latvian_SIC
Date: November 19, 2003 at 14:41
Realy great band...that is not nu metal...couse SlipKnot isnt numetal, SlipKnot is better than any music style...This dudes is realy cool.... i wish that they could play concert in Latvia...for me...for LATVIAN SICKEST PERSON!!!!!!!!
From: deadmaggot666
Date: April 17, 2004 at 3:38
not everyone can just 'scream their head off'.growling takes a lot of practise. By the way i agree with who cares. If you hate Slipknot, then why the hell are you even in the Slipknot section?
From: punkiz
Date: May 6, 2004 at 12:19
bastante brutal y pegadizo para las épocas actuales ,es uno de los mejores discos de metal de esta čpoca,imprescidible auque no sea un grupo clasico de death,o black combian una especia de mezcla bastante rabiosa
From: Baphochrist
Date: May 9, 2004 at 9:22
Slipknot is without a doubt NOT death metal. Sure its the most brutal shit to people that ONLY LISTEN TO MTV AND THE RADIO AND SHOP AT THE MALL, but to those of us that are OPEN MINDED and tried out some stuff that isnt on the cover of Metal Edge magazine than Slipcock is just prepubescent disney metal. Fuck slipknot Long live black metal and death metal
From: johnny
Date: May 23, 2004 at 0:24
this band sounds like hatebreed..........and thats not a good thing. ...and maybe they should try writing lyrics that arent dumb as bricks.
From: chaotic
Date: June 3, 2004 at 18:41
fucking brilliant
From: motley crue fan
Date: June 4, 2004 at 2:21
slipknot is not metal! What are they trying to do here/trying to fit into all the metal category. This album is just nonsense and rubbish. The singer's voice is horrible and the guitarist can't do any solo and all the songs are out of place with no accordance. George lynch(dokken),slash(gun'n'roses) ,john norum(europe) and even c.c deville(poison) can play ten times better than these talentless bozo!
From: Firechicken
Date: June 24, 2004 at 8:40
motley CRu fan, you don know anything about gutar music, mick from slapknot used to give SlAsh lessons. Mick Brown (doken) used to be there drummer before they were sLipnot and called anal Turniqet (sp). i Think you not know youre metal histoiry motley crue fan. Gerge linch never play own solos on album either, all soloes played by Alexi Belov from Gorky Pork. It sad you do not kno these things , in my contry we have more information about hardmetal/rock.
From: Metal T
Date: June 24, 2004 at 19:39
In defense of jack' (aka motley crue fan) He's right.---These guys are indeed a pile of horse sh*t.They have nine members ? Who are they trying to be the freaking 'Doobie Brother' .-- Time to move on and rate other bands,folks .
From: Jayz HiMSeLf
Date: July 1, 2004 at 5:34
i fucking love SLIPKNOT...but wait i just want 2 say M A A N LOVE A L I P I O 4 lyf.....COZ itZ Me.....heretic rulez
From: filipinoMetal
Date: July 5, 2004 at 7:01
you call this metal????!!!!I wish Anselmo WOuld KICK Corey taylor's ASSS!
From: MAGGOT CORPSE
Date: September 8, 2004 at 18:50
SLIPKNOT IS THE GREATIST NEW METAL BAND.MOTLEY CRUE FAN IS WRONG ABOUT SLIPKNOT.BUT HES COOL BECAUSE HE LIKES MOTLEY CRUE. BUT DONT PUT SLIPKNPT DOWN.-MAGGOT CORPSE
From: pinoy poser
Date: October 7, 2004 at 7:36
guess what? it aint that bad...
From: slipknot maggot
Date: February 4, 2005 at 13:49
slipknot is the greatest thing ever to come to the music world and ever will be
From: Blayde
Date: February 6, 2005 at 14:11
Slipknot is an untalented piece of shit poser band.
From: Jordi
Date: February 9, 2005 at 10:04
What is it? SHIT? Ah, ok...
From: maggot4life
Date: February 10, 2005 at 11:48
theyve played without the masks b4, and still kicked ass. plus, they came from a place where noone fuckin cares who u r, so thats wht the mask r there 4, a very kick ass band with great kick ass sound
From: Metalhead66
Date: February 11, 2005 at 14:32
Despite what some might think these guys can Really Play!! They are Hardcore Musicians... And they kick ass live!!!Need more solos though..It's hard to describe altdeaththrash!
From: Blayde
Date: February 11, 2005 at 14:48
It's not hard to describe... it's SHIT. Korn, Godsmack, and all the death metal crap needs to be removed from this site.
From: Blayde
Date: February 11, 2005 at 14:48
I cannot BELIEVE this is categorized as THRASH! What the hell?!?
From: REAL METAL fan
Date: February 12, 2005 at 9:26
What is this piece of shit?? I listened to this shit with my friend (I don't know how can he like this shit group). They just plain suck, no talent, no music, no spirit...Metal isn't just about making noise like this shit, metal is about singing and playing with passion, something that these guys never do. My little sister can scream better than the shit guy from this shit band.
From: Dani Filth
Date: February 12, 2005 at 9:31
There aint much point saying this anymore. Slipknot- a band you either like or you hate. If you like the music, such as myself, then you are welcome here. let us all bask in the brilliance of slipknot. if you hate them, two words: FUCK OFF. I am getting real tired of saying this, but those of you sad enough to come to this site and post comments about how much they suck are pathetic indeed. read what you've written, folks: YOU ARE JUST FUCKING REPEATING EACH OTHER. piss off and never return.
From: Dani Filth
Date: February 12, 2005 at 9:36
To those of you who listen to the melodic sounds of Cradle of Filth- yes, i am deeply into black metal, in case you're wondering. My favorite bands are Cradle of Filth, Satyricon and Emperor, and i sing in a black metal band. however, i have a very wide musical taste and aside from black metal, i am a fanatic about death, thrash, grindcore and the harder forms of nu-metal- eg. slipknot, SOAD, mudvayne. those who wanna pay me out about it, do it to my face. if you're too pussy, i'll understand.
From: ed
Date: February 19, 2005 at 8:17
Slipknot is for immature people. They are just like kids screaming...nothing more. In other words: they are a piece of shit.
From: ed
Date: February 19, 2005 at 8:19
...for mature music, try listening to JUDAS PRIEST or IRON MAIDEN who are thousands time better than this shit.
From: ed
Date: February 20, 2005 at 9:30
You're right, Blayde! What is this? Some stupid kids on halloween parade? Simply one way to describe this cd: crap.
From: ed
Date: February 28, 2005 at 18:34
This is NOT music...just a bunch of guys making noise is not good at all. I don't know why are there people that can stand this crap, because I can't. I'll take any of so called 'poser band' from the 80s, even 90's over this shit. Just noise everywhere, no talent... Even my granpa on his mad days screams better than this un-talented 'singer' if I can call him that...just a screamer, not a singer. And I know people can't stand screamers every time.
From: real metal fan
Date: March 23, 2005 at 16:22
They suck. They have no talent, no huge hits. The world don't even care about them, at least I know I don't.
From: SUPERNAUT
Date: May 13, 2005 at 14:41
Dumb music IMO, no-talent, made for 'depressed' teens who need to find themselves. I used to like them, then I grew up. UP THE IRONS!!! DOWN WITH KORN AND NU-METAL!!!
From:
Date: May 19, 2005 at 11:01
Blayde and all other people who are talking down KoRn,Godsmack and Death metal you guys need to get a fucking life. And i agree with Dani filth man you guys either like it or hate it and if you don't like Death, slash, or nu metal then fuck off!!
From: ed
Date: July 20, 2005 at 17:39
hahahah!!!! It's official! I heard somewhere that Slipknot are gonna retire. I knew it! Time to celebrate. One band less in the nu-metal world!!!! Real Metal lives 30+ years....while this nu-metal shit just dies after 5-10 years...That said, real metal lives more than all the nu-metal shits hope! Don't blame me, just follow the heavy metal history and you'll see that I'm right!!!!!!! DEATH FOR FAKE METAL!!!
From: rick kerch vzla
Date: August 30, 2013 at 18:10
A band you love to hate or vice versa but to be honest with you this debut was quite a blast one,the crazy metalcore/nu metal/raping way of singing Corey Taylor the lyrics is simply brutal!!!...i own the re-edition with 20 tracks in total..."Wait And Bleed" & "Spit It Out" were the "hit singles" in here...tracks "Eyeless","Surfacing","Liberate","Dilute","Get This"(b/t) & "Despise"(demo version b/t)are really enjoyable tunes as well...90/100
From: Doghouse Reilly
Date: August 31, 2013 at 15:43
They're not a favorite of mine, but being objective, when this disc came out, it was a lot heavier than the other nu-metal bands. The mainstream music press categorized them as death-metal, which isn't right either. Like them or not, NOTHING this brutal was getting radio airplay in '99. Slipknot reminded people who had forgotten that metal wasn't all about rapping about nookie or crying because your stepmom slapped you around.
From: Doghouse Reilly
Date: March 27, 2019 at 22:01
Albert Mudrian dedicates quite a long passage in his book "Choosing Death" to arguing that Slipknot qualifies as death metal. Maybe that's partly because the band helped him sell a lot of copies of Decibel magazine? You would never confuse them with Immolation, despite Paul Gray's tattoo. The hidden track "Eeyore" is about the closest they get. Still, there's just a palpable sense that "something is wrong with these people," that I just never got from any other nu-metal band. More than one profile at the time took the angle of "there's something seriously wrong in the heartland," and you definitely get that sense listening to this album (recorded in California, not some dank basement in Iowa). There are some cool riffs buried in all the weird noise, but Joey Jordison commands a lot of attention.
From: Doghouse Reilly
Date: March 27, 2019 at 22:16
Back then, Shawn Crahan was the chief spokesman for the band, a role that has since regrettably fallen to Corey Taylor. He's always shooting hiss mouth off about this, that or the other, and I've attempted to read a couple of his books. Even when I agree with him, he comes off as a blowhard who isn't nearly as clever as he thinks (in both the "smart" and "funny" senses of the word). A lot of his lyrics on this album are some of the most ridiculous, phony-tough-guy drivel, and he is an average singer at best, as Stone Sour has made abundantly clear. But there are moments when he sounds truly unhinged, and in the right mood, this can be affecting and cathartic. So yeah, a good disc for what it is, and quite a shock at the time of its release. You can't blame mainstream listeners, who weren't steeped in extreme metal, for thinking Slipknot were the heaviest band on earth.
---
You cannot leave comments for this CD because you are not currently logged in. Please click here to log in or create a Username for leaving comments.