THE Heavy Metal Reference on the Internet!
Bands: 1745 CDS: 6464 Songs: 73737

(Banner ads are FREE for bands and labels. Email me if interested.)






Your ongoing support of Brutal Metal is appreciated!
#s A B C D E F G H I J K L M N O P Q R S T U V W X Y Z
Compilations Soundtracks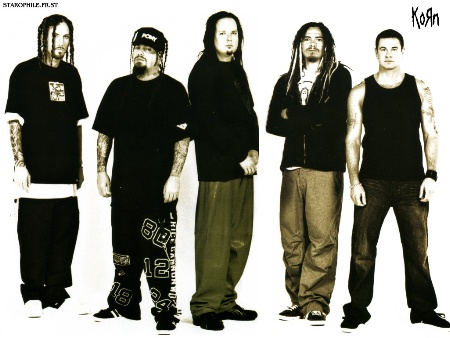 Life Is Peachy
(click on Artist's name above to return to artist's main page)
Category:

Year: 1996

Label: Immortal/Epic

Catalog Number: Ek 67554



Average Rating: 50 / 100 (2 ratings)



Personnel
Jonathan Davis vocals, bagpipes
Fieldy bass
Munky guitars
Head guitars, vocals
David drums

Tracks

| | | |
| --- | --- | --- |
| 1. | Twist | |
| 2. | Chi | |
| 3. | Lost | |
| 4. | Swallow | |
| 5. | Porno Creep | |
| 6. | Good God | |
| 7. | Mr. Rogers | |
| 8. | K@#O%! | |
| 9. | No Place To Hide | |
| 10. | Wicked | |
| 11. | A.D.I.D.A.S. | |
| 12. | Lowrider | |
| 13. | Ass Itch | |
| 14. | Kill You | |
If you see any errors or omissions in the CD information shown above, either in the musician credits or song listings (cover song credits, live tracks, etc.), please post them in the corrections section of the Brutal Metal forum/message board.
The music discographies on this site are works in progress. If you notice that a particular Korn CD release or compilation is missing from the list above, please submit that CD using the CD submission page. The ultimate goal is to make the discographies here at Brutal Metal as complete as possible. Even if it is an obscure greatest-hits or live compilation CD, we want to add it to the site. Please only submit official CD releases; no bootlegs or cassette-only or LP-only releases.
EPs and CD-singles from Korn are also welcome to be added, as long as they are at least 4 songs in length.
---
Existing comments about this CD
From: Ice Man
Date: September 9, 2001 at 9:39
This album from korn like the others SUCKS!!!!!!!!!
From: dosent matter
Date: September 15, 2001 at 3:15
how true
From: mihai
Date: March 22, 2002 at 15:56
korn rullz and all the albums are great
From: kornholio
Date: October 25, 2002 at 17:49
Get real, korn first 2 albums rules, but then they just sold out their music that really desapointed me..
From: The Fizzy One
Date: November 14, 2002 at 0:09
I tried to like Korn, really I did. I taped their first three albums from my freshman roommate's CD's almost four years ago. I've barely touched 'em since and am just waiting for an excuse to tape over them. Of the three, Life Is Peachy is easily my least favorite. Utter shit, from the retarded-kindergartner noises of 'Twist,' to the fading sounds of a grown man blubbering like a baby about his stepmother and her egregious offenses of a decade and a half ago. The salvageable tracks are 9 and 11.
From: the dead one
Date: December 21, 2002 at 22:14
korn 's has proven to be much more than any other nu metal bands , with davis amazing vocals , and the rest of the bands kick ass styles
From: Nupetor
Date: March 27, 2003 at 12:56
Absolutely devestating record! The most original album of the 90's!
From: Kevin
Date: April 12, 2003 at 6:00
any so called 'metal' band that describes their music as 'phat' needs a steal bar to the teath.
From: darkfirelord
Date: April 17, 2003 at 0:46
DUDE, heavy metal isnt all about stupid spandex wearin poofy hair dew jerks hoppin around like bunnies on stage, it can be hard and it can be heavy and it can be down without being stupid.
From: tailgunner
Date: April 18, 2003 at 8:26
APESTAN todos estos grupos ke dicen hacer metal y luego no lo hacen. es a lo ke yo llamo un QUIERO Y NO PUEDO. puto rap metal, puto nu metal, si es ke esto no es serio...
From: Martyr
Date: April 20, 2003 at 17:42
This album isn't that bad. A bit more listener friendly than most of the music on this site, it is still fairly heavy. Released before Korn started putting out albums with one or two decent songs with a lot of garbage this is worth the purchase if you have an open mind about music. At the time this came out it was a breath of fresh air for the 'mainstream' metal scene. Nowadays, the sound has pretty much played itself out.
From: Domenico
Date: September 15, 2003 at 4:07
The first 2 albums are pretty good,but the other stuff isn't so intersting.If you are searching something similar but better,then listen to Faith No More...
From:
Date: October 11, 2003 at 5:10
Nu-metal..It is not much different from the whole commercial rap/hip hop scene. It is more about the image portrayed to the kids than it is about the essence of music. But in any case, if you guys enjoy stuff like this, then go ahead. But I would recommend that you try to look past the image, and actually listen to the guitars,drums or the lyrics, for that is where the true essence of music lies. I'd even take adult contemporary music over such media stunts any day!!
From: Shredder
Date: February 11, 2004 at 19:35
you,re all missing the point here...KoRn have a unique sound, u either luv it or hate it. They are rock....just different....Which is wot they set out to be. Im 38 & play & listen 2 all sorts of shit including KoRn....Times & sounds have changed.....Its still ROCK
Brutal Metal Volunteer
From: Blue Charvel
Date: February 16, 2004 at 16:39
I remember when Korn came out, and I just thought they were a bunch of whiners with limited musical skills. Not dissing anyone who likes 'em. Just not anything that remotely appeals to me. I guess I'm just a 'true metal nerd', what can ya do? I'd take Primal Fear over Korn any day of the week, but again that's just me. Obviously you'll listen to whatever the fuck you want, which is good. The world would be really fucking boring if we all listened to the same shit, yes?
From: soapbox metal
Date: February 16, 2004 at 17:27
wow blue charvel, to use a website in order to boost your ego. trying to make yourself out to be this worldly knowlegable music fan..'i like blues, jazz, blah blah' who cares. the person that barks the loudest knows little of what he is talking about.
Brutal Metal Volunteer
From: Blue Charvel
Date: February 17, 2004 at 11:06
He asked, I answered. Worldly or not that's the way it goes. My ego's pretty self sufficient and already large enough, no boosting required, but thanks for the penny psychologist report. Bark, bark, bark little dog...
From: FUCK slayer
Date: February 17, 2004 at 15:56
My respect for you is growing with the day blue charvel. And what I said before, let's forget all the ' uhh.. you're a pigfucker' stuff and discus some real, pure and good music. I listen mainly all the stuff between Coldplay and Otep/Slipknot. But I have to say that Slipknot is completely over the top. On the other hand, I saw them live once and that was totally sick dude. A last critic: Why for God sake you listen classical and jazz, dude??!
Brutal Metal Volunteer
From: Blue Charvel
Date: February 17, 2004 at 16:25
I listen to that stuff probably because I'm old...my tastes have changed quite a bit. Jazz is something I've only just started to like, and I still hate most of it. A lot of the metal I really love is more along the lines of Type O, Lizzie Borden, King Diamond, etc. I'm not too big on Slipknot, more into Sevendust. Unfamiliar with Otep, what's that like?
From: Fuck slayer
Date: February 19, 2004 at 17:23
uhh..Blue Charvel, what's your definition of 'old'? And yes Sevendust is indeed a very good band, but King Diamand..? I really never heard of it. And about Otep: It's hard to discripe, but I think it's a mix between Machine Head ( they really kick ass,dude) Mudvayne, perhaps a bit of Slayer and sometimes it sounds like Korn, because they also use some hip hop in there music just like Korn. And about there singer: It's a woman with a voice of a growling truck engine.
Brutal Metal Volunteer
From: Blue Charvel
Date: February 20, 2004 at 10:02
King D was the vocalist for Mercyful Fate before he went solo. It's more 'true metal' than you might like, lot of soloing, always has great musicians backing him up. I'm pretty sure he's from the Netherlands oddly enough... Machine Head does kick ass, I am familiar with them, I'll have to check out Otep. As for age, let's just say my memory of turning 30 grows more distant with each passing day...
From: motley crue fan
Date: June 3, 2004 at 5:51
The band is full of untalented members who can't sing or play guitar. Total nonsense!Crap!Recommended for anyone who like to hear useless and nonsense music like britney spears and westlife!
From: Firechicken
Date: June 10, 2004 at 14:26
Thees guys should fight Cinderella and beet ther pussy ases. KOrn sing abnout real issues, not girls and cars.
From: jack
Date: June 22, 2004 at 6:01
Maybe you are into korn and all the other nu-metal shit but korn beating cinderella asses. Well,i think its the other way round. YOu got it all wrong,cinderella do not sing much about girls or cars at all,they focus also about lots of other issues.If you want car or girls,thats poison,not cinderella.Don't say anything about cinderella when you know nothing about them,i bet u never even heard of them!
From: jack
Date: June 22, 2004 at 6:07
And korn singing about real issues? whats that? life is peachy or bitchy! All those depressing shitty stuff that makes listener feeling numb and sick all the time like nirvana music! korn is just a disgrace to metal music. they should not be put in the same sites with the likes of great bands like slayer, pantera,megadeth,judas priest, manowar etc. they belong in the same crappy site with nirvana,oasis,matchbox 20, incubus,linkin park etc.
From: Blue Tequila
Date: June 22, 2004 at 11:09
Yeah really firechicken, who the hell wants to hear depressing songs about girls and cars. Nobody needs to hear doom and gloom songs like that when they have the good time party music of korn remaking the chubby checker hit "Twist" and giving tribute to their mentor and inspiration Mr. Rogers. These guys fukin' Rawk!!!
From: LD5.0
Date: June 23, 2004 at 6:19
U know i like there depressing songs makes me feel better and when im down they make me feel better but it takes a lil longer. But fuck not alll there songs are depressing i like every single one most of them have buzzy as beats like "Its On", "Ass Itch", "Divine", "Counting" too much to name sorry.
From: Firechicken
Date: June 23, 2004 at 8:50
i have for sure herd of Cinderela Jack, they are those crazy fellows sining about girls adn cars, or girls in cars or something. They forget how to rock severly hard like kORN or Lamp Biscuit. Azz Itch is very buzzy like large bucket of bees. Who in right mind not want bucket of bees jack? I ask you that my friend, I think you need reducation like we have many camps for in my country before Soviet breakup.
From: jack
Date: June 24, 2004 at 5:50
IF you have heard of cinderella, then why do you keep on saying their music is all about girls and cars? i think you've mistaken them with poison or maybe depressed after hearing too much of korn music like blue tequila there who listen to both hair metal and rap metal but can't decide to make up his mind about which genre is better. One minute its 80's metal and the next its nu-metal!cheers
From: Firechicken
Date: June 24, 2004 at 8:32
Cindrella = Girls & cars. KOrn = the real musik. jack, you are like babushka in my contry, holding onto past like a precius pakage of toilet paper you just wait on line for. It okay to live in past sometimes but admit the facts jack, kORn is mor melodic ANd talented than those crasy Poison or Cenderella old guys. Jonathan vocals are hard hitting realpolitik about things you don't understand. mabe if you had been to gulag you wuld know what i speak. krON is the peoples music you cant take away.
From: nu korn fan
Date: June 24, 2004 at 10:19
Today I went out and bought every album korn and Slipknot have ever released. I figure if jack doesn't like it is has to be good! jack you dumbass, you don't even know when someone is sticking up for you. Last time I make that mistake. What are you, twelve?
From: Rockhead
Date: June 25, 2004 at 12:38
Jonathon is MIDDLE CLASS-ALWAYS HAS BEEN-What the fuck has he got to bitch about? YOu listen to phoneys. KORN are Phoney, Slipknot Phoney! The only PEOPLE this band are relevant to are middle class white kids from Middle America. It is only MUGS like YOU that believe they are STREET. Live in the Fuckin real world-MORON
From: Rockhead
Date: June 25, 2004 at 12:42
Well NU Korn Fan-you must have more money than sense!! Korn and Slipknot are SHITE. Add Limp Bizkit to that list. FAKE wannabee's that swap talent for image. Bandwagon poser's one and all.
From: sambora
Date: November 27, 2004 at 8:59
i odnt care if thery are middle class ora anithnig...i complain abour their music...this is the tipical anti-virtuoso music of nowadays....rock and metal music forget aobut good musicanship, now to be a "musician" you only have to make noise.
From: eddie
Date: March 30, 2005 at 15:07
KORN SUCKS... SLAYER, KING DIAMOND, MEGADETH, early ANTHRAX, early METALLICA, even W.A.S.P. are better! 80's rock wipes the floor with 90's so called metal (shit) bands' asses anyday.
From: Supernaut
Date: May 9, 2005 at 14:34
It's not about which generation is better or not, it just comes down to fans who like good stuff and guys who like stuff that is 'bad'. In the case here, Korn is the 'bad', I just can't listen to them, because their music is about depression & BS, I want songs that mean something...IMO
From: pucho
Date: August 10, 2005 at 11:58
all the people who talk shit about korn, go fuck yourself. the new generation of metal have a new sound riff guitars also the vocals have that aggressive style and it comes from korn. this for all the people who talk shit of korn you little faggots. the new generation is depressing and hardcore. MOTHERFUCERS!!!!!
From: piss off
Date: August 11, 2005 at 1:31
cinderalla was a aerosmith rip off korn isnt the new generation of metal korn isnt hardcore hey pucho get check out the real new generation of metal bands you fag
From: Doghouse Reilly
Date: August 6, 2013 at 19:47
Korn continues pretty much where the debut left off, doubling down on the hip-hop influence. A few decent songs (the singles "No Place To Hide" and "A.D.I.D.A.S."), but on the whole, Life Is Peachy is a very poor album. The disc starts with Fieldy vocalizing a bassline, sounding like that kid who sat behind you in third grade and made weird noises all the time and nobody wanted anything to do with him. Along the way, we get more barely-playing-at-all riffs, more of Jonathan's awful vocals, a few rap disasters in "Kunt!" and "Wicked," and a dreadful War cover before the disc mercifully ends, again, with Jonathan crying. No wonder Generations Y and Z are such fuckups, if they made these guys superstars.
From: Doghouse Reilly
Date: November 28, 2022 at 13:26
There are certain songs, and moments within songs, that rival the material on the first album. But when a song breaks down and goes quiet in the middle? Look out! Here comes some of the worst singing you'll ever hear! I know, I know, Jonathan was probably going for that effect, trying to sound like somebody having a breakdown, and you certainly do get that feeling. But from a purely vocal/musical standpoint? Awful! David Silveria is the true star of the album—dude was a hell of a drummer. Listen to his work on "Porno Creep"—that flurry of ghost notes reminds me, oddly enough, of Frank Beard's work on certain songs on ZZ Top's Tejas album. Best songs here are "Chi," "Good God," "No Plac To Hide," "A.D.I.D.A.S.," and "Ass Itch." But "Twist," "Kunt!" and "Wicked" rank as some of their worst material ever. "Kill You" tries for more of the harrowing drama of "Daddy" and just ... fails.
From: Doghouse Reilly
Date: November 28, 2022 at 13:43
Also of note, Life Is Peachy is considerably shorter than the debut, since the songs in gengal are not long. Plus, several tracks, like "Twist," "Porno Creep" and "Low Rider," are little more than interludes. The overall sound is very murky and dark, and quite a few tracks blur together. The atmosphere is like being stuck in a small, stuffy room, or maybe that's me, since that's the setting in which I first heard the album.
---
You cannot leave comments for this CD because you are not currently logged in. Please click here to log in or create a Username for leaving comments.